What exactly is the Hawaiian Coffeeberry®?
• Coffee Fruit from Kona, Hawaii
• The fruit that surrounds the world famous Kona coffee bean
The Hawaiian Superfruit
• Natural Energy
• Antioxidants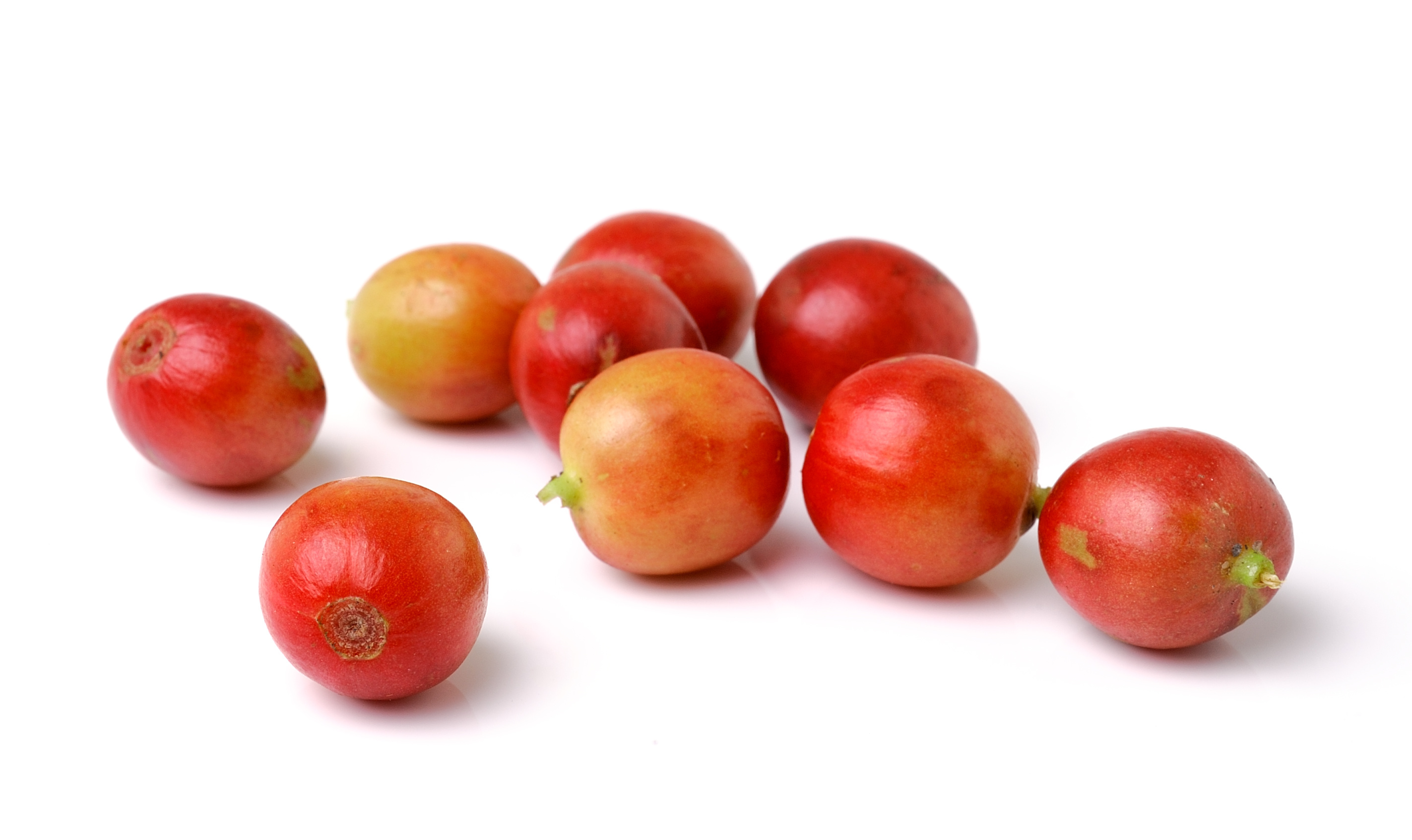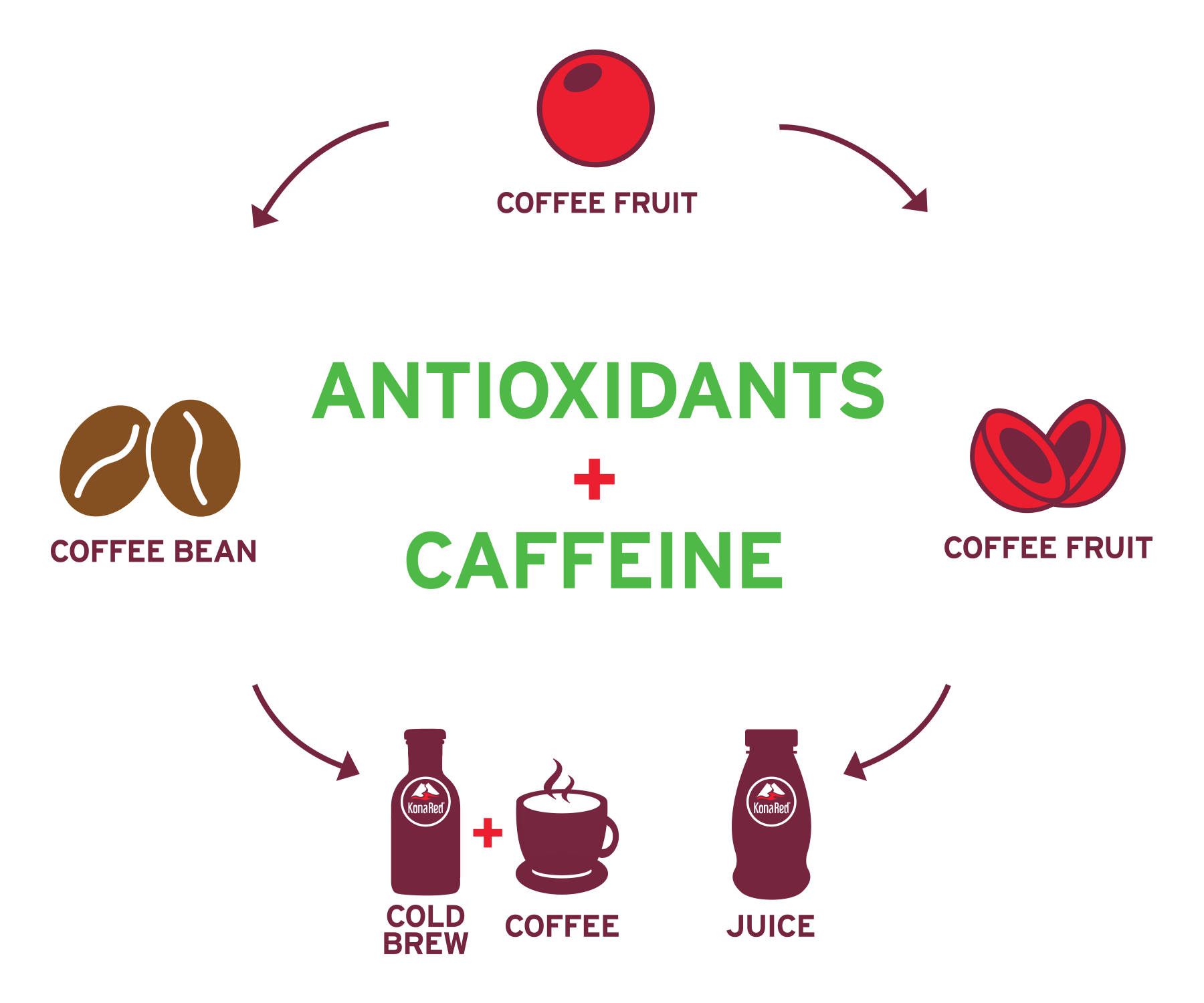 Most people consider coffee a morning "shot in the arm." One that provides a spark for the day ahead. But few realize that there's more to coffee than that beloved – yet temporary – lift. In reality, before you even reach the seed (or "bean" which is subsequently dried and roasted), you'll encounter fruit. That's right. FRUIT. It's called the coffee cherry, and it is a nutrient rich powerhouse.
A Nutrient Rich Powerhouse
Containing not merely a stimulant with fleeting effects, but actual nutrition with long term benefits, The Hawaiian CoffeeBerry® is LOADED with powerful compounds that lead to a better you.
While the main benefit of the coffee bean is caffeine, the coffee fruit contains the majority of the nutrients from this amazing tree. The dominant polyphenols (nutrients) found in coffee fruit are:
Chlorogenic Acid – Cinnamic acid derivatives with biological effects mostly related to their antioxidant and anti-inflammatory activities. Chlorogenic acid is a natural chemical compound which is the ester of caffeic acid and (−)-quinic acid.
Quinic Acid – Quinic acid along with citric and malic represent a significant portion of coffee's total acid content. This acid is a versatile chiral starting material for the synthesis of new pharmaceuticals for the treatment of influenza A and B strains and is marketed in a product called Tamiflu.
Ferulic Acid – Is one of the phenolic compounds found in many different plants and botanical species plant species that contributes to the antibacterial [1] and antioxidant [2] properties of the plant. Ferulic acid is found in coffee, apple, artichoke, peanut, and orange, as well as in both seeds and cell walls of commelinid plants (such as rice, wheat, oats, the Chinese water chestnut and pineapple).
Grown in Hawaii, USA
KonaRed's Hawaiian CoffeeBerry® is the fruit of the commonly known coffee plant, Coffea arabica. Yet, KonaRed is uniquely sourced from Hawaii Coffee, where it has developed over 175 years. These coffee plants thrive in the extraordinary combination of warm tropical sunshine, abundant mountain rainfall, and mineral-rich volcanic soil, to create award-winning coffees and the nutrient powers of KonaRed.
Sustainable
KonaRed utilizes the previously unused fruit portion of the coffee plant providing additional value to the coffee industry and it's farmers.

KonaRed's Hawaiian Coffeeberry® is sourced from farms in Hawaii (USA), and hand picked from the fields. The KonaRed process can be followed from the field to your bottle, every step of the way. Real time "farm-to-table."
"We took this fruit out of the waste stream," says the CEO of KonaRed Corp., Shaun Roberts. "The coffee farmers were previously discarding the fruit after they split it to get the coffee beans out. Coffee beans are actually the seeds of a red, cherry-sized fruit."
Backed By Science!
Cognitive Function ongoing research – CoffeeBerry® Whole Coffee Fruit Concentrate has been shown to significantly stimulate BDNF (brain-derived neurotrophic factor), a protein responsible for the development, differentiation, and protection of neurons in the central and peripheral nervous system and strongly implicated in cognitive and mental health.
Brain-derived Neurotrophic Factor is a member of the neurotrophin family of growth factors, along with nerve growth factor. The reported role of BDNF in learning and memory as well as various positive effects of BDNF on chemical and structural features in the brain. It helps regulates the development and differentiation of new neurons and promotes neuron survival. BDNF influences mood and depression, sleep control and modulates appetite.Blood BDNF declines during aging and decreased levels may be associated with depression.
We report that a single dose of WCFC nearly doubles the amount of BDNF in the blood after 60 minutes with sustained effects for at least two hours after treatment. This effect was not seen with freshly brewed coffee over the same time.
* We could go on about broad spectrum polyphenols or the coffee fruit's effect on brain-derived neurotrophic factor (BDNF) for days, but that might get a little boring. We just want to bring you a little bit of Hawaii, not make you a chemist. But if you care to discover BDNF's role in the development, differentiation, and protection of neurons in the central and peripheral nervous system, we have mounds of research you can pour over. Just let us know and we'll get you more information.
Polyphenols, Antioxidants and ORAC
KonaRed beverages have unprecedented levels of powerful nutrients potential, Quinic Acid, Chlorogenic Acid & Ferulic Acid, resulting in an astonishing ORAC score of 7,900+.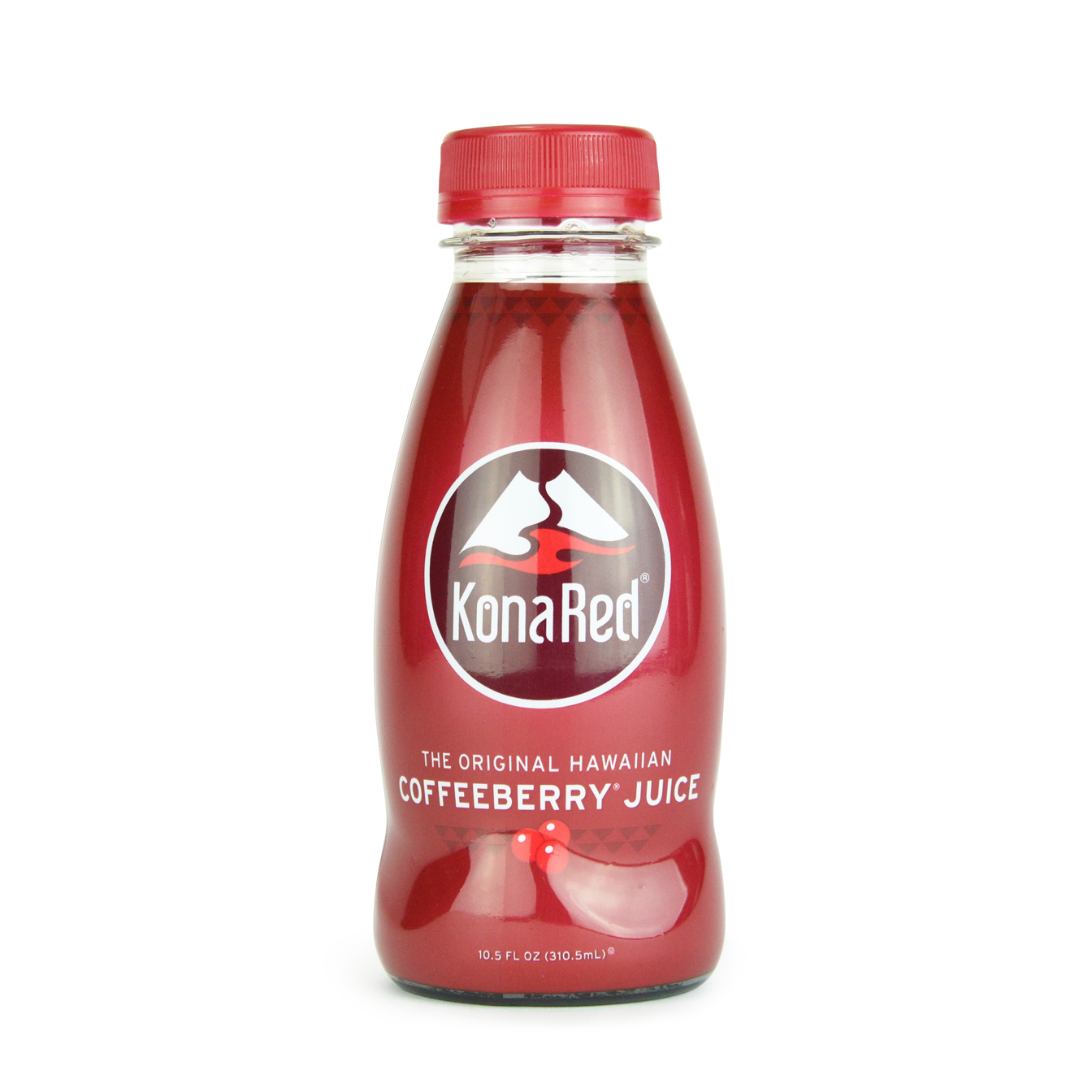 What's Inside KonaRed?
100% Hawaii, USA Sourced Coffee Fruit
KonaRed sources its coffee fruit solely from the Big Island of Hawaii. We use a truly meaningful dose of coffee fruit in every beverage we produce. We meticulously developed our coffee fruit extract and believe that being true to the ingredient is the key to producing a product that not only tastes great but is also functional and brings real benefits to our customers.
Powerful Nutrition
We strive to have a healthy dose of Hawaiian coffeeberry® in all of our products, which is why we formulate each product to deliver a healthy dose of nutrients and a delicious flavor. This delicious blend of KonaRed Hawaiian CoffeeBerry® with other body loving fruits brings you wellness you can feel!